How the University of South-Eastern Norway relies on Finetech assembly and packaging equipment to facilitate innovation in one of country's top microtechnology regions.
With 20,000 students across eight locations, the State University of South-Eastern Norway (USN) is one the largest educational institutions in the country. Originating from a merger of three regional colleges, the university today offers a wide spectrum of bachelor, master and PhD courses in many scientific fields.
Besides their important role in domestic and international research and education, the USN is also traditionally deeply rooted in one of the most dynamic economic regions in the country. This is especially true for the Vestfold-based Department of Microsystems at the Faculty of Technology, Natural Sciences and Maritime Sciences, which has long been collaborating with local industrial partners in numerous R&D projects for innovations in microtechnology.
Under the Electronic Coast® brand, the USN together with close to three dozen member companies form an independent industrial association and expertise cluster, with the goal to strengthen the value creation and innovation in electronics and ICT-based companies in Vestfold and the region and to foster the development and commercialization of technology-based ideas.
Alongside the scientific perspective, the USN's Department of Microsystems is the technological backbone, providing its partners with access to advanced lab facilities for microsystem technologies. A key element here: FINEPLACER® placement and assembly systems by Finetech.
It Started with a World's First
Mr. Hoang-Vu Nguyen, Associate Professor at the Department of Microsystems, first learned about Finetech when visiting exhibitions at several packaging conferences in Europe and the US a couple of years back. He was impressed of the FINEPLACER®'s modular flexibility and ease of use. He thought it would be the perfect fit for his home lab and recommended the system to the department.
At that time, Mr. Nguyen was working with GE Vingmed from Vestfold on a medical healthcare project, specifically the assembly of 3D ultrasound imaging sensors, which would provide high frame-rate 3D images for guidance and aid during heart surgery and for diagnosis of heart diseases.
The task was to simultaneously bond large-area dual and quad sensor chips, each chip equipped with integrated electronics and thousands of IO's, to a substrate using Anisotropic Conductive Film. This required very good placement accuracy as well as enormous bond force.
In order to implement the application, Mr. Nguyen and GE Vingmed were on the lookout for a precision flip chip and die bonder system. After getting in touch with Finetech and deciding for FINEPLACER® pico flip chip and die bonde, they joined forces with Finetech's product and application specialists to modify the system according to the application requirements.
With a reinforced machine design, that would withstand large bond forces, as well as special bonding tooling to ensure crucial co-planarity during the placement of large sensor chip arrays, a complete assembly process without intermittent machine adaptations could be ensured. Thanks to semi-automated assembly processes, the manufacturing time compared to initial trials could be significantly improved.
What USN got in the end from Finetech was arguably the world's first 700 N table-top semi-automated flip-chip and die bonder. A very capable high force machine, which is being used to this date for demanding R&D health care applications.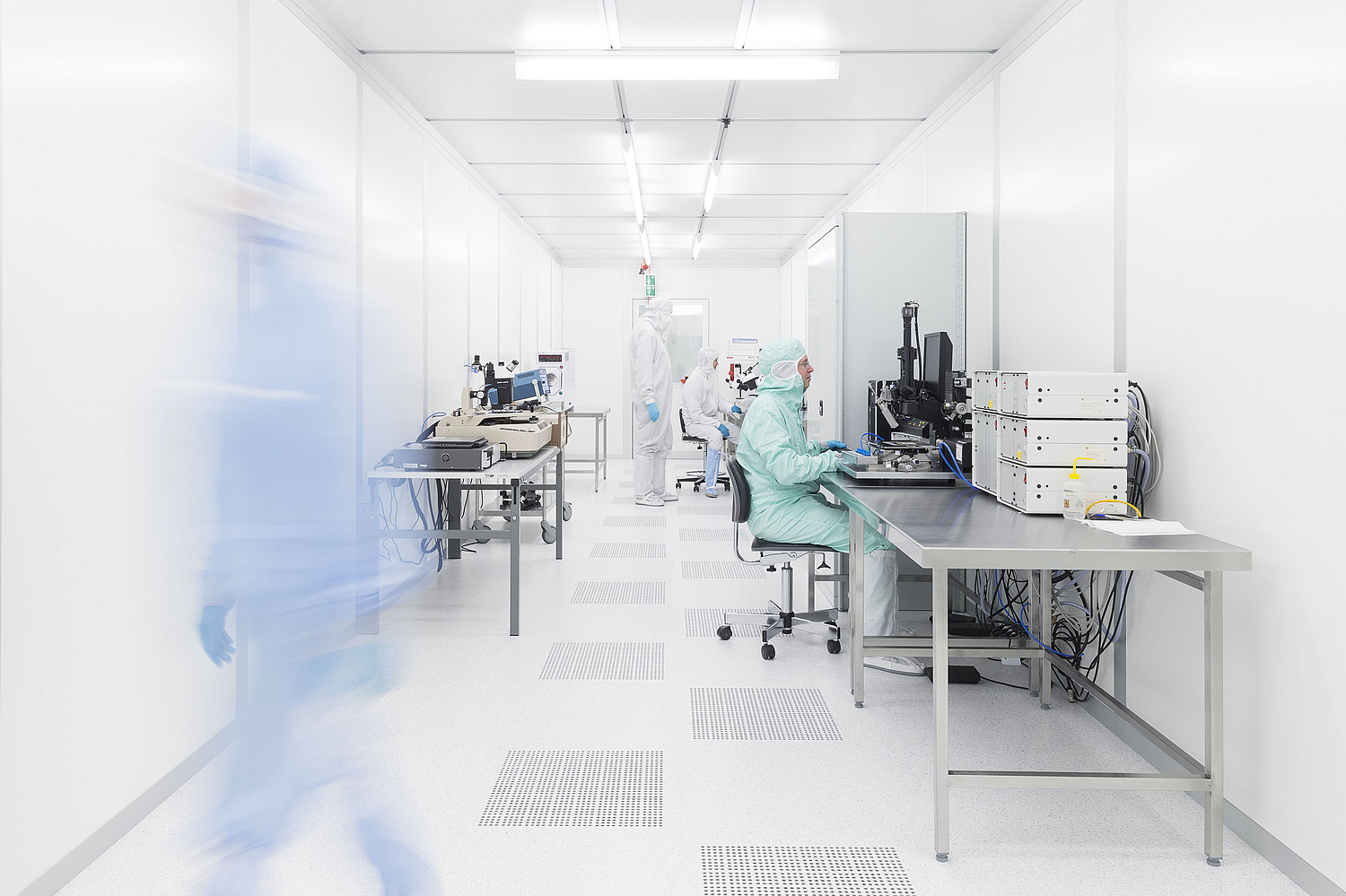 Easy to Use and Versatile
In order to enable partner companies to develop prototypes in the university lab, but also for in-house research and educational purposes, a second flip-chip and die bonder was acquired shortly afterwards, with the support of the Research Council of Norway to the Norwegian Micro- and Nano-Fabrication Facility (NorFab). Due to the excellent experience, the choice was again made for a FINEPLACER® pico ma.
This time, the focus was on how to make the most of the system's vast technological versatility. USN opted for a fully manual bonder, since this would allow new operators to take up work quicker. As a straightforward but highly adaptable R&D system, it is now being used in various scenarios: PhD candidates, researchers and industrial partners use it to assemble prototypes, while students learn about chip packaging during hands-on bonding sessions and work on it for their master projects.
To date, USN has collaborated with companies in a multitude of scientific and commercial R&D projects in microelectronics and sensor development, ranging from cryogenic applications to medical healthcare to biology and 2.5D integrated packaging applications that are subject to extremely high acceleration.
For these companies, USN is providing bonding services and also running an open lab, which can be accessed upon reservation. This is especially helpful for start-ups and small companies with no technological facilities of their own. Thanks to its ease of use and quick setup and retrofit times, the FINEPLACER® pico ma proves to be a perfect fit for this environment, as it enables users to complete a wide variety of assembly and packaging tasks within a tight schedule.
"The FINEPLACER® is really easy to use. New operators normally get a 2-3 hour introduction and then are able to build their samples completely independently. "

Great Service Goes a Long Way
So far, Mr. Nguyen has been very pleased with his Finetech customer experience. Right from the start, he liked the fact that the Finetech sales team proved to be very knowledgeable and had the expertise to clarify many open points in honest and informative discussions.
The good impression later continued during the successful collaboration on the GE Vingmed project and the service Finetech has been providing since. In case of problems or if new additions or adaptations to the machines had to be implemented quickly, Finetech always provided quick response without delay. This is especially important as Mr. Nguyen's Department of Microsystems is providing bonding service to their customers as well and cannot afford long downtimes.
"I appreciate Finetech's service philosophy. Instead of trying to sell me service, they first give me the chance to find a solution to an issue myself, supporting me via phone or online and suggesting me various options what I should try."