The British CANDO project develops brain implants for epileptics which could actively avoid life-threatening seizures. Measuring only a few micrometers, the implants are assembled with a FINEPLACER® high-precision die bonder.
In the brain, nerve cells generate rhythmic activity or 'brain waves'. In many neurological diseases, these rhythms are disrupted, producing abnormal patterns of activity. In epilepsy, abnormal activity can often be localized to a small 'focus', which then spreads causing a seizure. Nearly a third of cases fail to respond to conventional drug treatments and may require surgical removal of the focus. However, surgery may not be suitable for all patients due to irreversible damage to necessary brain functions.
Beginning in 2014, CANDO (Controlling Abnormal Network Dynamics using Optogenetics), a joint research project of the University of Newcastle and other British research facilities, has been developing an alternative method of treatment. A small brain implant modulates abnormal patterns of activity to avoid seizures. The implant provides precisely timed stimulation by continuously monitoring brain waves via implanted electrodes and modifying them using implanted light sources. This requires some cells within the focus to be genetically altered using a safe virus to make them sensitive to light.
The goal of this project is to create a successful, first-in-human trial in epilepsy patients.
Optrode Assembly with Smallest µLED Components
Core portion of the brain implant is optrode substrates on which light sources – µLED components <100 µm – are mounted in defined structures, together with additional ASIC control components.
In the early development stages, CANDO was looking for a quick and flexible way to build prototype samples for functional testing and design optimization. For this purpose, the components were glued onto the substrates. However, this bonding method is not viable for use inside the human body. Thus, final implant designs will rely on biocompatible bonding methods such as flux-free soldering with gold/tin which would have been too costly during prototyping. CANDO needed a die bonder that could cover additional technologies as an alternative to the gold/tin process.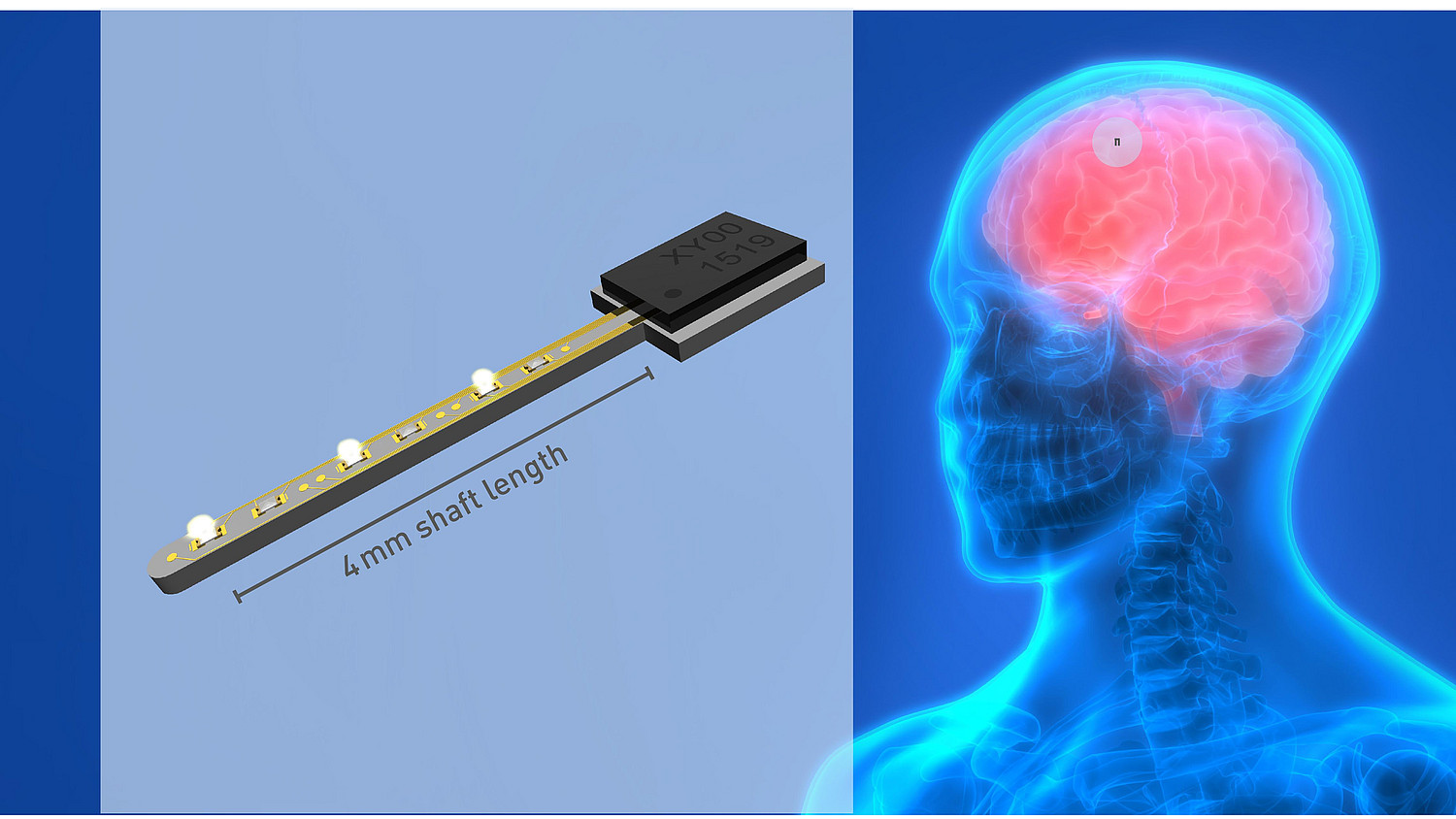 Sub-micron Die Bonder and Tooling Know-how
During prototyping, the scientists at CANDO soon realized that their existing die bonder machine did not offer the required technological flexibility and precision. As they ran the risk of missing their tight time schedule, they were in a hurry to find a new machine solution.
Our sub-micron die bonder – FINEPLACER® lambda turned out to be the optimal device. With precision optics for sharp representation of smallest structures and 0.5 micron placement accuracy, it had what it took to assemble the optrode substrates.
Additionally, our tooling know-how was another key factor of success. We were able to develop heated pick and place tools which allowed the scientists to safely handle their smallest components with heating from above (in addition to bottom heating via heating plate). Using suitable stamping tools, we also provided a very convenient and reliable method to apply small volumes of solder. The tool picks up defined solder amounts from a dipping tray and transfers them to the substrate to apply just the exact amount of solder.
Reaching the Target Together
With the FINEPLACER® lambda, the University of Newcastle now have a customized die bonder configured for their specific requirements. The brain implants can be assembled with highest precision and reproducibility. Due to bonding technology flexibility (such as soldering, gluing or ultrasonic bonding), design and assembly processes can be quickly adapted.The machine is also fit for use with other projects and applications.
"With regard to CANDO's tight schedule, we guaranteed quick delivery and installation within weeks and were able to keep our promise."

The customer was also impressed by our extensive pre-sales and after-sales support. During several visits to Berlin and Newcastle, targets were specified and extensive test runs were accomplished.
Finetech continues to work closely with the University of Newcastle. Our continuous module and tool development allows CANDO to always get the most out of their FINEPLACER® lambda – be it assembling sophisticated brain implants or completely different application challenges.
In 2016, we were very pleased to have CANDO's PhD. Mr. Nikhil Ponon at Finetech's annual Micro Assembly Day to speak about their experience developing state-of-the-art brain implants on a FINEPLACER®.